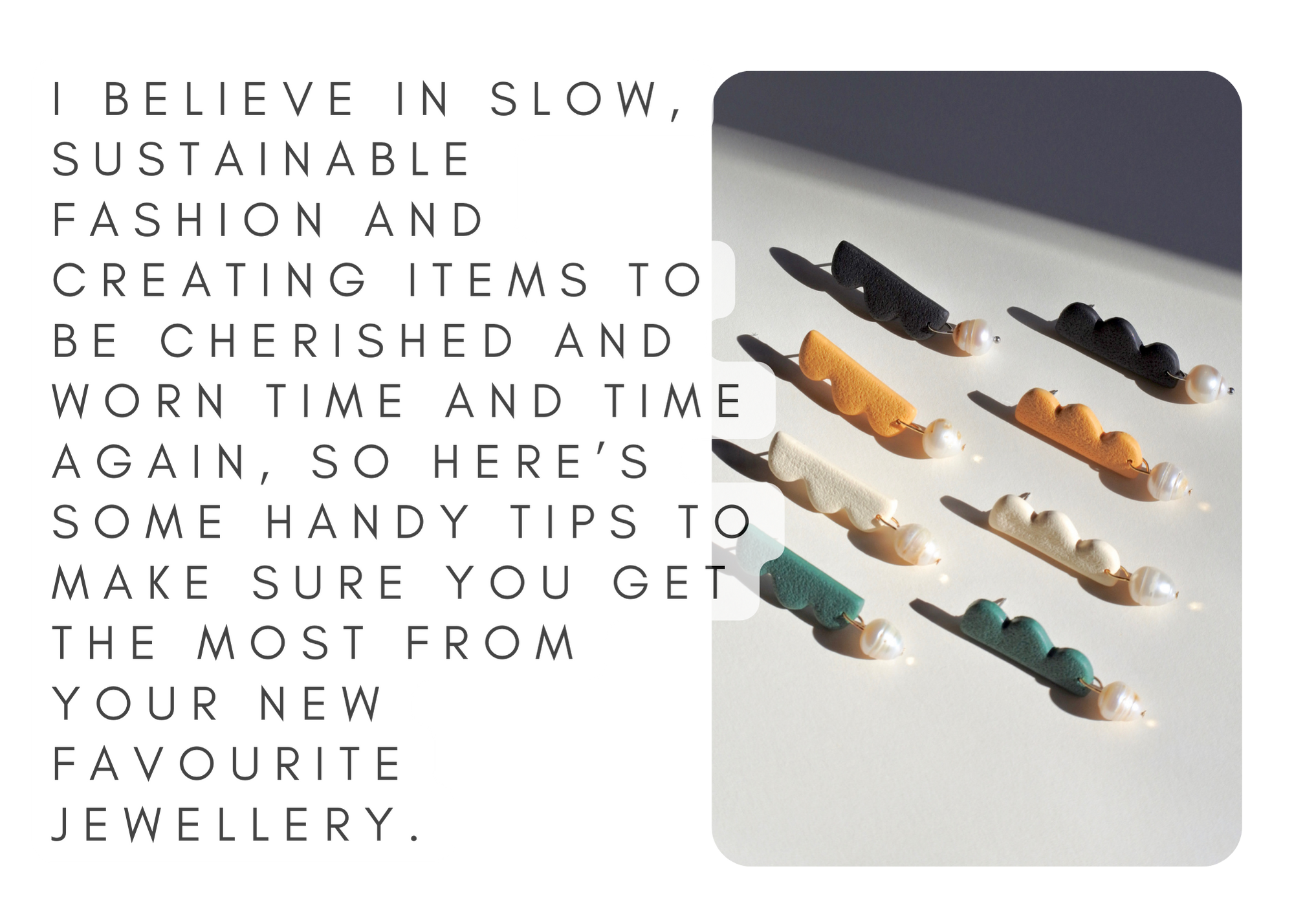 Product Care |
Polymer Clay is strong and durable but it can be damaged if bent, dropped or knocked against a hard surface. Do not wear your earrings in water.
Store your HuntersTrue jewellery in a cool dry place out of direct heat & sunlight. 
Try to avoid contact with lotions and perfumes and wipe softly with an unscented baby wipe or slightly damp cloth to clean.
Jewellery Findings & Components |
The HuntersTrue uses a variety of metals for jewellery findings . Designs are created as costume jewellery and the majority of findings used are not made from precious metals, but instead from coated base metals and 304 surgical steel. These materials will tarnish over time, but regular cleaning and careful storage will help to extend their life.
Raw Brass : Raw brass components are used in some Hunters True pieces. This will tarnish over time, and can happen sooner if it comes into contact with certain substances. To avoid this, I treat my brass with an anti-tarnish wax, to clean buff with a soft cloth.
Ear posts and hoops |
My earring posts are hypoallergenic surgical steel, with the exception of wired hoop fittings which are a gold or silver coated nickel free base.
Any other questions about your pieces and how to look after them, please get in touch with me.
'Oops' & 'Oh no' moments |
We've all experienced losing or breaking our favourite jewellery. If you ever lose or break a piece and would like to replace it or see if it can be fixed, get in touch and I'll be happy to try and work with you on a solution.
Affordable Handmade Statement Pieces |
I strive to create my pieces with great attention to detail, a lot of care and I use durable, quality materials. I combine handmade clay art with a variety of materials to achieve a unique and colourful piece. I believe in slow, sustainable fashion and creating items to be cherished and worn time and time again, but please be aware that , like us, my creations do have a limited life and will eventually wear.